Working with Hasbro was an excuse to think like a kid again.
Over the course of my two year stint working on the Hasbro brand, my focus was divided into two workstreams:
1. Creating marketing strategies for new major game launches, like Jenga Pass, Monopoly Gamer, and Monopoly Cash Grab.
2. Building monthly strategic and creative thought-starter presentations for Hasbro's internal toy and game development teams in order to spark new product ideas.
The second workstream was one of the most fun and rewarding projects I've been lucky enough to work on, and I want to walk you through it here.
1.
We started by gathering inspiring trending internet content.
This meant scraping YouTube, Reddit, and Instagram for new trends and well-performing videos and photos. Anything that resonated with the internet at large, from oddly satisfying videos to the latest dance challenge were fair game.
2.
Then we'd synthesize our findings into larger macro trends, sometimes quantifying the factors that made them popular.
Maybe we're seeing that "scary is the new cute" or a decline in neon colors. We had to break it to the clients that the Minecraft bubble had started to burst but they still had time to jump on the Fortnite craze.
3.
Finally, we'd get to the really fun part: Designing new products and games based on the trends.
In order to show the viability and applicability of each trend to the Hasbro portfolio, my team was responsible for pitching new product ideas. This included new Play-Doh sets, collectible lines, board games, and innovations to licensed toy lines like Star Wars and Disney Princesses.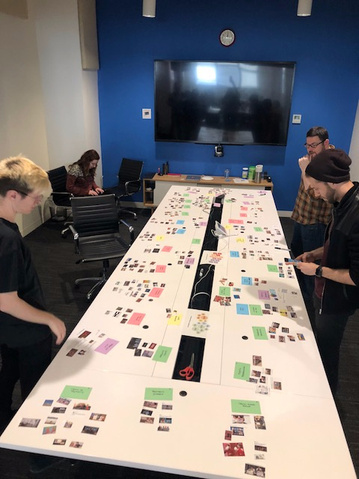 Bucketing out our smaller trends into macro trends was a labor of love.
Does this one meme belong in the "Delightfully Wholesome" category? Or does it prove that "Wine Mom Content" was in decline?
Understanding how content is created, shared, and filtered through the internet's collective conscious was a skill I was able to hone daily, even with that questionable bleach job.
Here's a couple examples of the reports we built: